Archives by date
You are browsing the site archives by date.
By Breeonne Baxter on November 19, 2018
We invite students, faculty and staff to share their input in the Focus on People Framework survey to shape UBC's future workplace. Please encourage faculty and staff in your areas to participate in the survey. The Focus on People Framework is a companion to the People & Places core area in UBC's strategic plan. The […]
Posted in Focus on People Framework | Link | No Comments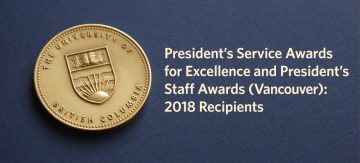 By Melissa Baluk on August 17, 2018
UBC presents the President's Awards for Staff annually to recognize staff members who demonstrate outstanding achievement and excellence within the UBC community.
Posted in Awards, Recognition, Slider | Link | No Comments
By Melissa Baluk on April 19, 2018
With Earth Day just around the corner, we are pleased to share that – for the seventh consecutive year – UBC has been named one of Canada's Greenest Employers in 2018. This special award recognizes Canadian employers who create a culture of environmental awareness, develop exceptional earth-friendly initiatives, and – because of their environmental leadership – are […]
Posted in Recognition, Slider | Link | No Comments
By Breeonne Baxter on March 2, 2018
UBC has been recognized as one of Canada's Best Diversity Employers in 2018. These awards recognize Canadian companies that stand out through their efforts to create inclusive and respectful workplaces. Here are a few reasons why UBC was selected as one of Canada's Best Diversity Employers: UBC offers an Equity Enhancement Fund to support community-based initiatives that enhance […]
Posted in Recognition, Slider | Link | No Comments