March 10, 2017
UBC has been named one of BC's Top Employers in 2017. Some of the reasons that UBC was selected as one of BC's Top Employers this year: UBC encourages employees to continue their own development and education through a variety of in-house training programs, as well as tuition subsidies for university courses. UBC helps its […]
Posted in Awards, Recognition, Slider | Link | No Comments

February 6, 2017
We invite you to recognize UBC staff who make outstanding contributions to the University community by nominating them for the 2017 President's Service Award for Excellence and President's Staff Awards (Vancouver). Nominations are due March 17, 2017.
Posted in Awards | Link | No Comments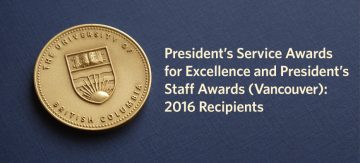 August 23, 2016
UBC presents the President's Service Awards for Excellence and other staff awards annually to recognize staff members who demonstrate outstanding achievement and excellence within the UBC community.
Posted in Awards, Recognition | Link | No Comments