August 28, 2017
We are pleased to announce this year's recipients of the President's Staff Awards at the Vancouver campus. These awards recognize the personal achievements and contributions that our staff make to UBC, and to the vision and goals of the University.
Posted in Awards, Recognition, Slider | Link | 4 Comments

March 10, 2017
UBC has been named one of BC's Top Employers in 2017. Some of the reasons that UBC was selected as one of BC's Top Employers this year: UBC encourages employees to continue their own development and education through a variety of in-house training programs, as well as tuition subsidies for university courses. UBC helps its […]
Posted in Awards, Recognition, Slider | Link | 1 Comment
January 11, 2017
UBC has been recognized as one of Canada's Top Employers for Young People in 2017, the only post-secondary institution to receive this designation. This special designation recognizes the employers that offer the nation's best workplaces and programs for young people starting their careers. This is the fifth consecutive year that UBC has received this award. […]
Posted in Recognition | Link | No Comments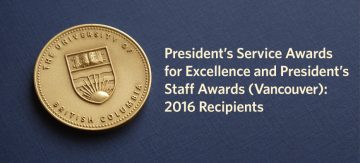 August 23, 2016
UBC presents the President's Service Awards for Excellence and other staff awards annually to recognize staff members who demonstrate outstanding achievement and excellence within the UBC community.
Posted in Awards, Recognition | Link | No Comments