Not your typical day-to-day. That is the opportunity UBC presents. This is a place where ground-breaking research and discoveries are made, where new ideas and fresh ways of thinking begin, and where innovative teaching and learning opportunities prepare a future generation of leaders to take on local, national, and global challenges.
Message from UBC Vice President Human Resources, Lisa Castle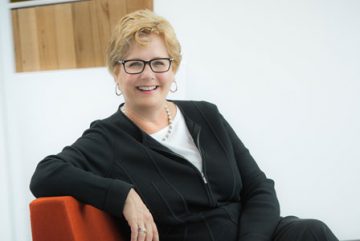 All faculty and staff at the University contribute making UBC an inspiring place. At the same time, having talented colleagues and a healthy, fulfilling environment are integral for people to thrive and do the best work, and to support the success of the University. Over five years ago, HR set out to bring focus and alignment to our effort build and sustain such an environment. The resulting strategic framework, Focus on People: Workplace Practices at UBC, informed the priorities under the outstanding work environment commitment in Place and Promise: The UBC Plan.
Since the introduction of Focus on People, we have shared stories annually of how its strategic priorities have made a meaningful difference for faculty and staff. This year is no exception, and we've moved to a video format to make the report more dynamic, and most importantly, more about the people that Focus on People initiatives touch. The stories focus on four themes: wellbeing (The Work Re-Integration and Accommodation Program), career development (the coaching component of the Academic Leadership Development Program), community involvement (the United Way Loaned Representative secondment program), and global citizenship (the Leave for Change Program).
In the coming months, we will be looking to what is next for the Focus on People framework and how we will continue to fulfill the outstanding work environment commitment, while building greater congruency with other commitments in Place and Promise. Although the specifics of the future framework are not yet fully defined, we have begun to take steps on some key initiatives, including determining how the University can better support staff and faculty in their career journeys—your feedback in the 2011 Workplace Experiences Survey identified this is an important priority. Additionally, supporting health and wellbeing will continue to be an institutional focus in the coming years.
The next version of Focus on People will also take into account emerging general shifts and trends in the workplace. How people work, who is in the workforce, and what work is about are changing, while many employers, including UBC, continue to face financial pressures. At the same time, the learning landscape is shifting with the rise of Massive Open Online Courses (MOOCs) and flexible learning models. What does this mean for us, as faculty and staff? We need to be agile, we need to support each other, and we need to be receptive to the possibility of working differently. We need to fully embrace the opportunities that "not your typical day-to-day" opens for all of us.
---
Leave for Change
Leave for Change provides staff with a unique opportunity to volunteer their professional skills and experience in a developing country. Here are Darran Fernandez and Gulnur Birol's stories…
---
Academic Leadership Development Program: Coaching
The coaching component of the Academic Leadership Development Program supports faculty who take on leadership roles. Here is Anne Condon's story…
---
United Way Loaned Representative
Being a United Way Loaned Representative is a rewarding secondment opportunity for staff to develop valuable skills while giving back to the local community. Here is Roger Ling's story…
---
WRAP
The Work Re-Integration and Accommodation Program (WRAP) at the Okanagan campus provides a collaborative approach to leaves due to injury/Illness, and returning or remaining at work following an injury or illness. Here is Tena McKenzie's story…