---
Thank you to the more than 6,000 faculty and staff who participated in the UBC Workplace Experiences Survey in November 2017.
The results are in! Together with our survey partner, TalentMap, Human Resources presented the survey results at open sessions in Vancouver (February 7) and the Okanagan (February 8).
UBC Overall Results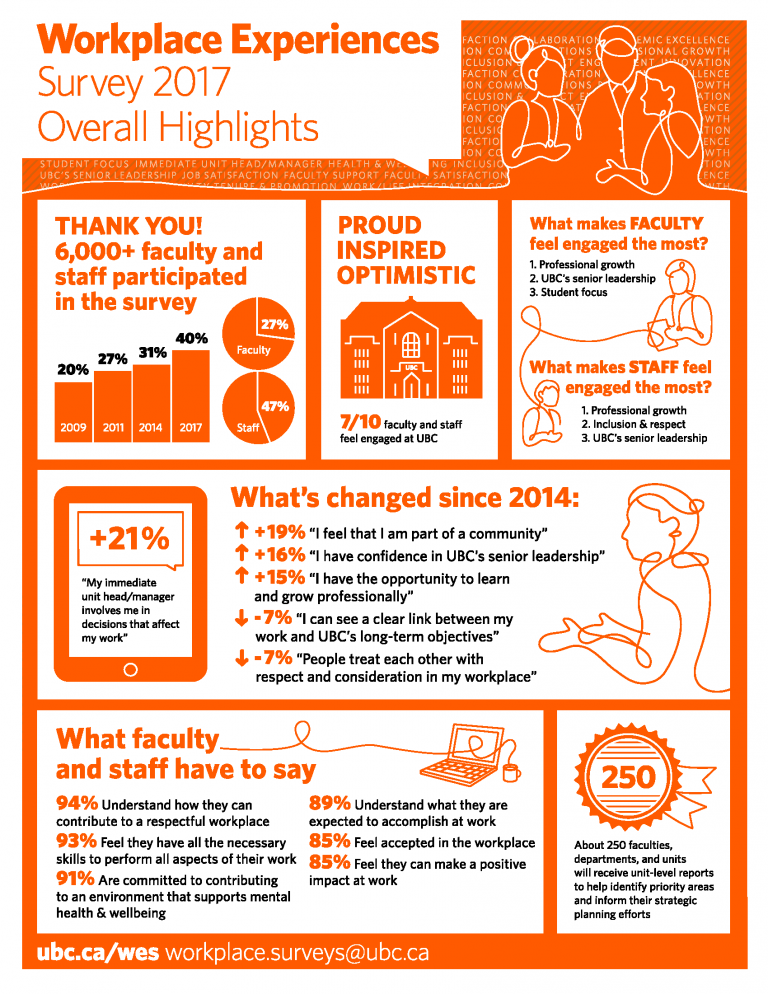 The overall results for faculty and staff are available here (PDF). The report, as presented during the WES Results Open Sessions, includes:
About the Workplace Experiences Survey
Engagement & Survey Approach
Workplace Experiences Survey Trends
Overall Results Highlights
Faculty Engagement – Key Drivers
Staff Engagement – Key Drivers
Next Steps – Your Role
Download the overall WES highlights as a one-page infographic.
Before the end of February, all eligible units (those with ten or more survey respondents) will receive unit-level reports.
---
Why your experiences matter to faculty, staff and students
We're a top-40 research institution where open, innovative thinking is changing the world. UBC Faculty and staff engagement has an impact on research, learning, and the student experience.
UBC Graduate student Megan Ryland speaks to her experiences and why she chose to continue her learning path at UBC.
Did you miss Professor Santa Ono's Facebook Live discussion about faculty and staff engagement? Watch a recording of the event below, with special guests Bill Aiello, professor of Computer Science and Shanda Jordan Gaetz, executive director of faculty affairs in the Faculty of Medicine. The conversation was moderated by Kathryn Gretsinger, senior instructor at UBC Journalism. Original broadcast date: Friday, November 10, 2017.