Submitted by Winnie Wan, Marketing and Communications Specialist in UBC IT.
At UBC Information Technology, we have over 400 staff located in the Vancouver Point Grey and Okanagan campuses, as well as at UBC Robson Square. With such a broad and diverse group of staff, enhancing engagement and communication is one of the department's current and continuous key focus areas.
Keeping IT Connected!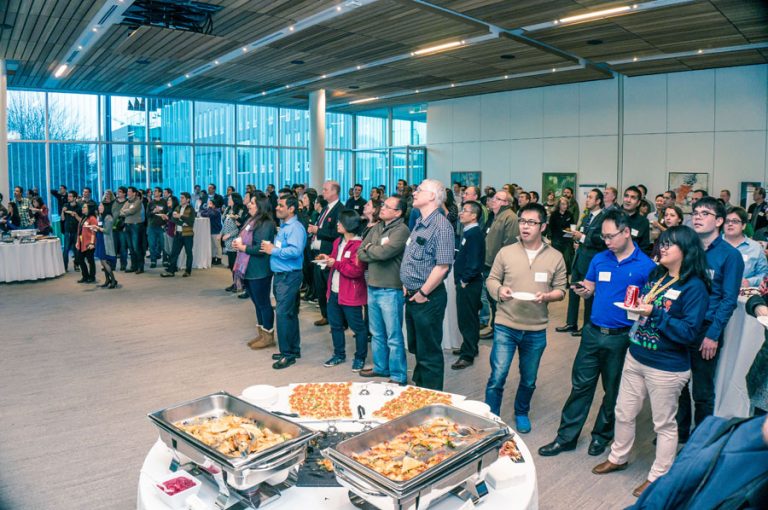 The main communication channels that UBC IT uses to engage its staff are shareIT (its departmental intranet), emails, in-person meetings, and events. The shareIT intranet provides news updates of UBC IT teams and the UBC community. Staff can also post kudos about one another, buy and sell items in the Community section, and view photo galleries of past events. Quarterly departmental town halls and bi-weekly informal Q&A meetings with the UBC IT leadership team (which we call "IT Stand Up meetings") provide opportunities for staff to interact with their colleagues and the IT leadership team, while snacking on delicious refreshments and baked goods. Staff also have the opportunity to anonymously submit questions for the leadership team to answer before the day of the event.
Another source of obtaining feedback and encouraging engagement from staff, are our departmental-wide employee survey and the UBC Workplace Experiences survey. These surveys provide us further information on what our staff needs and requirements are and whether we are providing enough engagement.
Bringing the unit/team together
We host a number of staff events and information sessions throughout the year. We also promote having a work-life balance and implementing healthy routines to our daily work lives. Here is a quick summary of some of our initiatives:
Bi-weekly IT Stand Up meetings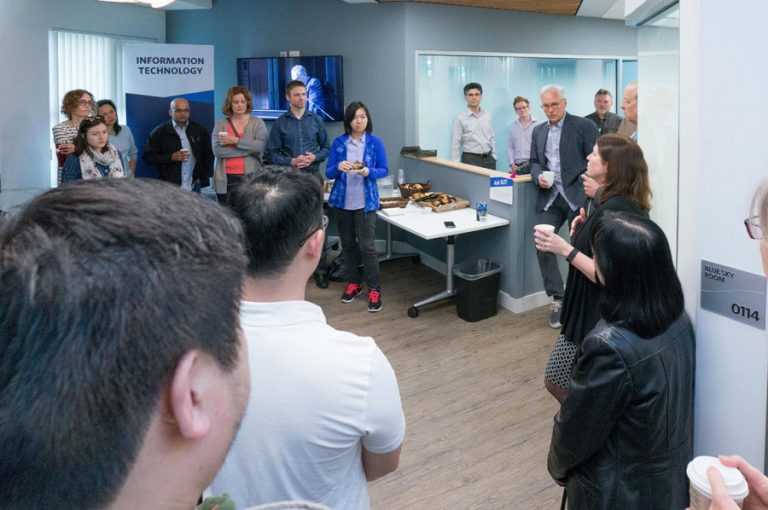 UBC IT teams take turn hosting the event in their work area to give staff from other teams in the department a chance to learn what they do and what sort of projects they are working on. Staff also get to mingle with one another and ask questions to the Senior Leadership Team in an informal setting.
Quarterly Town Hall meetings for the IT community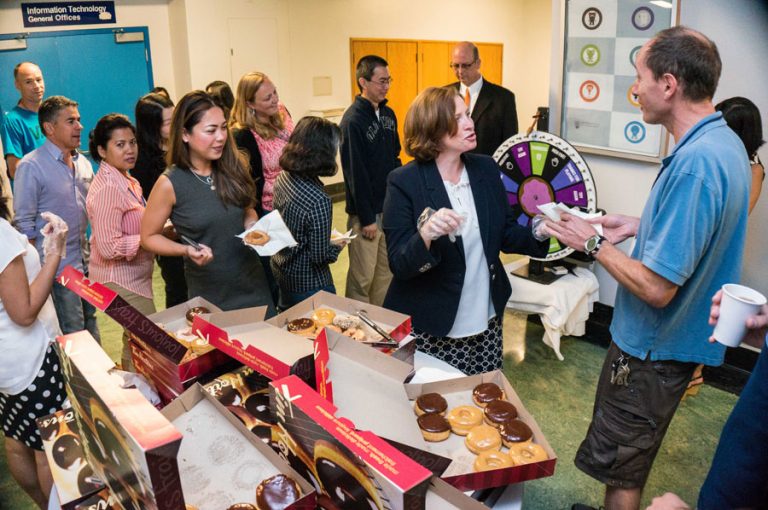 Town Hall meetings provide departmental updates and University news to staff. Guest speakers have also been invited in the past to discuss key topics in the IT industry and also trends taking place in higher education.
Health and Safety Committee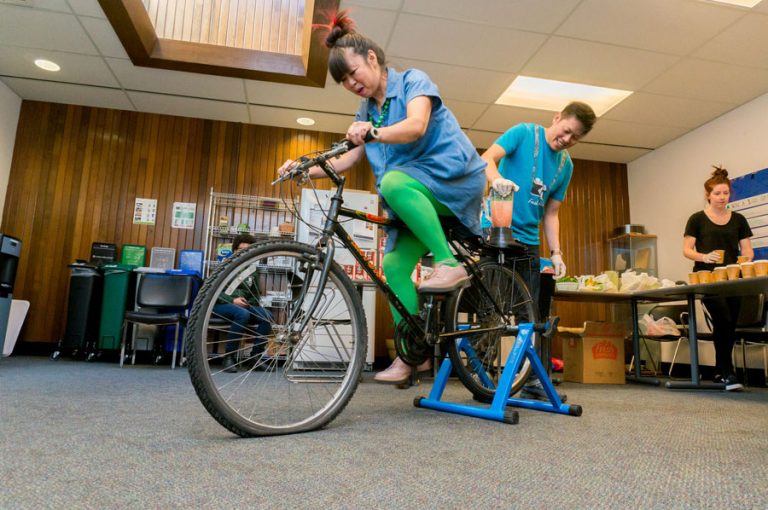 The UBC IT Health and Safety committee promotes a healthy and safety workplace. They have organized classes for hip hop dancing and yoga, as well as "Smoothie Day" for staff to spin and create their own smoothies using a blender bike (which is a blender attached to a bike).
Annual celebratory events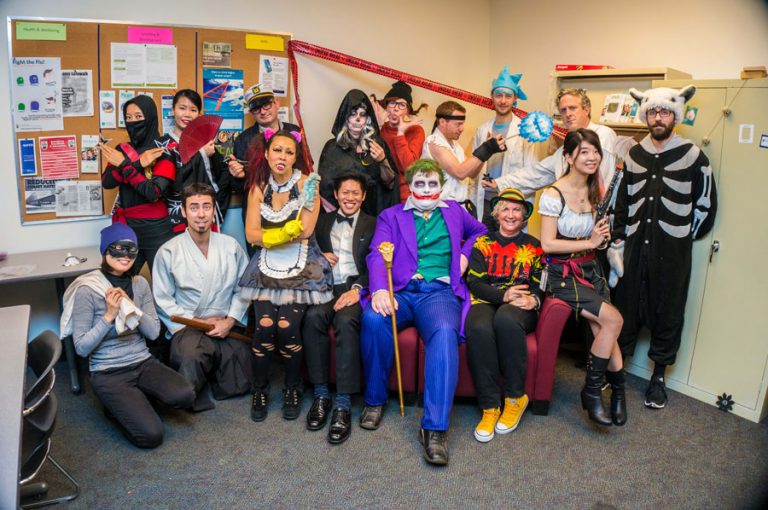 To support the United Way Campaign, UBC IT hosts an annual bake sale, bringing together bakers and foodies in the department together. We also organize a Halloween costume contest and staff Christmas party each year
Individual IT Team events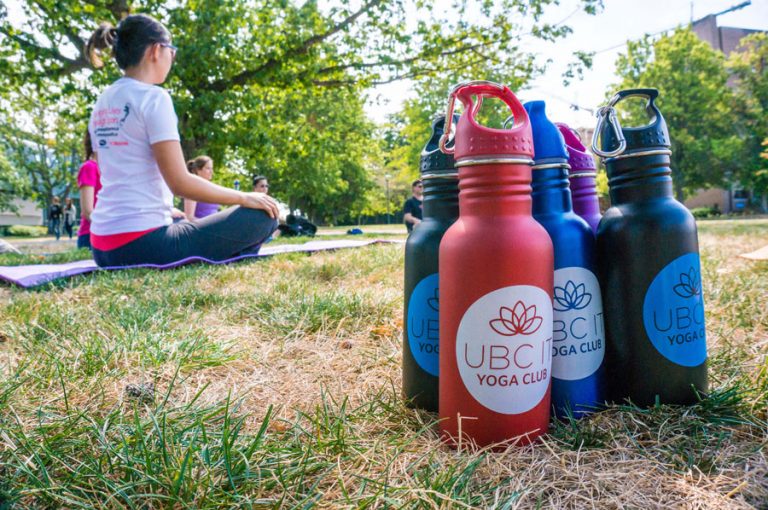 With such a large number of staff in the department, individual teams often organize events for their own team or in combination with a few other teams. Teams have hosted barbecues and activities such as kayaking, and golfing.
Campus-wide events
We regularly promote events that take place campus-wide, such as the UBC Welcome Back BBQ, Storm the Wall, and Staff and Faculty Sports Day, on our departmental intranet, shareIT.
Greater Vancouver community events and sports organizations
With all the exciting festivities and sport organizations taking place in greater Vancouver, staff members often organize teams for community events, such as the Vancouver Sun Run, and for recreational sports organizations such as the Vancouver Dodgeball League.
How we strive to improve the unit/team culture
In addition to encouraging feedback at our events, we hope that by providing these opportunities to meet and mingle, it will create more visibility and transparency for staff on what is taking place in the department and also break down any silos we have among teams. We also encourage staff to adopt the habit of speaking to their supervisors about what their needs and requirements are, and also attend personal development workshops on topics such as "Respectful Workplace."
UBC IT also has many ties to the greater IT community at UBC as we are partners and collaborators on many IT services. We make an effort to invite our fellow IT colleagues to our staff events, such as our Christmas party and past staff barbeques, and share our learning and engagement initiatives with them, such as hosting technology focused events, like IT Talks.
We recognize that our staff have a diverse set of skills and interests. In the past, we have established special interest groups catering towards specific roles and responsibilities, creating a forum for staff to share knowledge and skills.
Our Vision
UBC IT is committed to creating a transparent and an open communication environment between management and staff. We hope this will encourage more staff involvement and feedback on any changes within the department and the University. This supports our vision of creating a culture of inclusiveness and collaboration for IT at the University, and supporting a stronger relationship for the greater good of the institution.
---
Have a story to share about what you're doing to create an engaging workplace in your department and the impact for staff and faculty? Please send your submissions to communications@hr.ubc.ca.