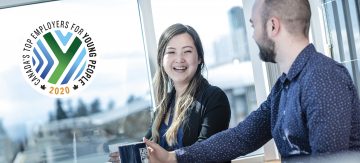 By Melissa Baluk on January 17, 2020
UBC has been recognized as one of Canada's Top Employers for Young People in 2020, for the eighth consecutive year. This special designation recognizes the employers that offer the nation's best workplaces and programs for young people starting their careers. Here are some of the reasons why UBC was selected: UBC manages a community leadership program to help […]
Posted in Awards, Recognition | Link | No Comments
By Breeonne Baxter on August 26, 2019
We are pleased to announce the recipients of the President's Service Awards for Excellence and the President's Staff awards, presented by the university annually to recognize staff members who demonstrate outstanding achievement and excellence within the UBC community. President's Service Awards for Excellence The President's Service Award for Excellence is presented each year to up […]
Posted in Awards, Recognition | Link | No Comments
By Melissa Baluk on August 17, 2018
UBC presents the President's Awards for Staff annually to recognize staff members who demonstrate outstanding achievement and excellence within the UBC community.
Posted in Awards, Recognition, Slider | Link | No Comments

By Breeonne Baxter on February 5, 2018
We invite you to recognize UBC staff who make outstanding contributions to the university community by nominating them for the 2018 President's Service Award for Excellence and President's Staff Awards (Vancouver). Nominations are due March 16, 2018.
Posted in Awards, Recognition | Link | No Comments